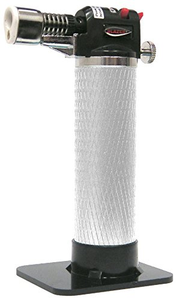 - Hand held refillable butane micro torch.
- Features electronic instant ignition and air flow adjustment dial for flame control.
- Handle/tank body has high quality anodized finish and diamond grip texture.
- Comes with a detachable base for hands free use.
- 2,500°F (1,371°C) maximum flame temperature, flame length is adjustable from .5" to 1.5".
- Measures 6" x 3.5" x 1.33", weighs 6.3 oz.
- Burn time ranges from 30 minutes to 2 hours.
- The Stingray features a convenient safety lock for added protection while not in use.
- Butane *not* included.